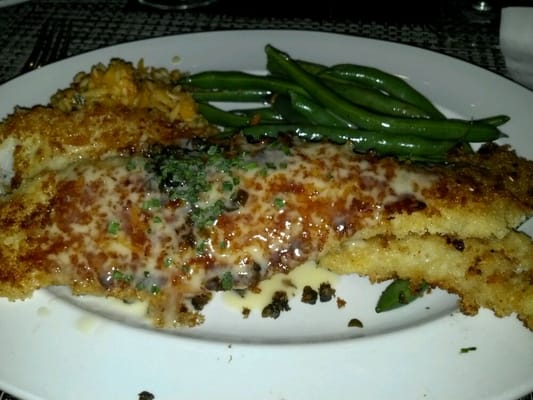 MACADAMIA CRUSTED HALIBUT
McCormick and Schmick's Recipe
Serves 2
Fish and Crust
2 (5-6 oz.) fresh halibut fillets
1 cup macadamia nuts
1/2 cup Panko breadcrumbs
1 tablespoon ground pepper
1/2 cup all purpose flour
2 eggs
1/4 cup vegetable oil
1/2 cup butter sauce (
see recipe below
)
1/4 cup Major Grey's chutney
Butter Sauce
6 ounces white wine
3 ounces white whine vinegar
3 whole black peppercorns
1 shallot, quartered
1 cup heavy cream
9 ounces cold butter, cut into pieces
Roast the macadamia nuts in the oven at 350 degrees for about 10 minutes. Combine the nuts and Panko breadcrumbs in a food processor (
the mixture should be a little coarse
), and place on a large plate or in a pie pan. Season the flour with the salt and pepper, and place on a second plate. In a separate bowl, beat the eggs with a tablespoon of water or milk. Dredge the halibut fillets in the flour, then the eggs and then the nuts. Pat the fillets to ensure the nut mixture sticks to the fish. Pan fry the fillets 3 to 4 minutes per side in oil over medium high heat. Remove the fillets and allow them to drain briefly on paper towels. Combine the butter sauce and the chutney and pour over the halibut.
Butter Sauce:
Combine wine, vinegar, peppercorns and shallot in a non corrosive saucepan. Reduce until the mixture is just 1 to 2 tablespoons and has a consistency of syrup. Add the cream and reduce again until the mixture is 3 to 4 tablespoons and very syrupy. Remove the pan from the heat and whisk in butter, about 2 ounces at a time, stirring constantly and allowing each piece to melt in before adding more. If the mixture cools too much, the butter will not melt completely and you will need to reheat it slightly.
To make lemon butter sauce
, replace the vinegar with 2 tablespoons of freshly squeezed lemon juice.