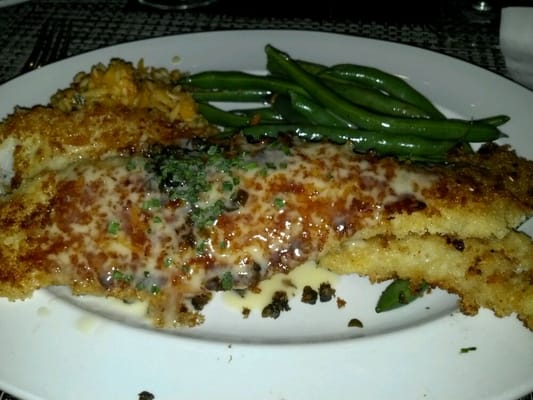 PARMESAN CRUSTED SOLE
McCormick and Schmick's Recipe
4 sole or 2 large halibut filets
1 cup panko bread crumbs
1/2 cup grated Parmesan Reggiano cheese (
or regular parmesan
)
2 egg whites, beaten
lemon
butter or olive oil for cooking
salt and pepper
Sprinkle the fish with salt and pepper. Squeeze a bit of lemon on the filets. In a small bowl, beat the egg whites. Combine the panko and cheese together in a bowl and set next to the egg whites.
Coat the fish in the egg whites. Dredge the fish in the panko mixture.Heat a large nonstick skillet to medium high. Heat either olive oil or butter in the pan. Cook the fish for 3-4 minutes on each side, depending on thickness. Once the fish is white and flakey, it is done.
Notes: If you are using a thicker halibut filet, preheat the oven to 400 degrees. After searing the fish on each side for 4-5 minutes, transfer the pan directly into the oven and cook until the outside is crispy and the halibut is thoroughly cooked, about 4 minutes.