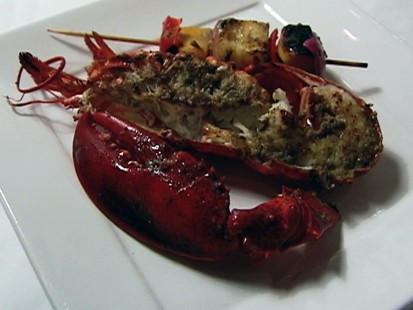 JERK GRILLED LOBSTER
McCormick and Schmick's Restaurant Recipe
Serves 4
2 1 lb lobsters
1/4 cup jerk seasoning
1 red onion, cut in 1 inch pieces
1 red bell pepper, cut into 1 inch pieces
4 fresh pineapple, 1 inch cubes
4 fresh mango, 1 inch cubes
Jamaican Jerk Seasoning:
3 jalapeno or Scotch bonnets, seeded and chopped
6 green onions, chopped
3 shallots, chopped
3 garlic cloves, chopped
1 inch ginger, peeled and chopped
2 tablespoons fresh thyme, chopped
1 1/2 teaspoons ground allspice
1 1/2 teaspoons ground black pepper
1 1/2 teaspoons kosher salt
1 teaspoon cinnamon
1/2 teaspoon nutmeg
1/2 teaspoon ground cloves
1 cup vegetable oil
1/2 cup pineapple juice
Blend all ingredients for the jerk seasoning together in a blender until smooth. If you do this a day or two ahead it will improve the flavor. Boil the lobsters in salted water for 2-3 minutes. Remove them and cool off under running water enough to handle. Split the lobsters, clean out the heads and crack the claws and knuckles well. Make small bamboo skewers out of the fruit and vegetables.
Brush the skewers and lobster halves with jerk seasoning up to 2 hours before you are ready to grill. Grill or sear in an iron pan over moderate heat until charred and cooked through (
about 3-5 more minutes.
) Brush a little more jerk seasoning on the lobsters if you want and serve with the skewer as a garnish.